By Leah Andrews
The Coeur d'Alene Tribe is turning heads in Idaho as well as nationally. Not only because of their large casino and hotel, but also for their social programs, involvement in conservation and their Supreme Court victory granting them the southern portion of Lake Coeur d' Alene.
The tribe as been featured in the New York Times, Christian Science Monitor, and other national publications for some of its programs and initiatives.
"We have people with vision," said Coeur d' Alene Chairman Ernie Stensgar. "I'd like to think I'm carrying out that vision."
Coeur d'Alene Tribal Chairman Ernie Stensgar
responds to questions in his office at the
tribal headquarters in Plummer.


The tribe has taken on a number of prodigious projects in the past ten years, including an innovative health care center and wellness center that are serving as models for other tribes and rural communities around the country.
Not only does the facility provide basic medical care to tribal members and non-tribal members, it also provides counseling, dental care, prescriptions, and can serve as an emergency facility before helicopters or ambulances can arrive.
The wellness center focuses on preventative health and functions as a health club for the community, but also houses a rehabilitation center with a special swimming pool and other tools of healing.
The tribe has not always known such prosperity.
"When I was growing up, the tribe was poor. We didn't have any employment," said Stensgar, who grew up in the small reservation town of Desmet.
Yet the land has always been a source of wealth for the tribe.
"We were really poor, but we didn't know it. It is such a beautiful place. We spent the whole summer going to the creek and the mountains," he said.
Stensgar said that he and other Coeur d'Alene Indians are tied to the land even if they are away from the reservation for a while.
"We automatically know we are going home, our spirit is here. It's hard to explain to non-Indians," he said. "I don't think in that sense anybody ever leaves. This is my home. It's beautiful. It's magic to me."
Stensgar is serving his thirteenth year as chairman of the tribe. He has seen some drastic changes, including the creation of numerous jobs on the reservation.
"If you don't have a job, you don't want to work," Stensgar said. "We have created employment on the reservation for every tribal member."
Jobs at the casino and other tribal run businesses give preference to Coeur d' Alene tribal members first.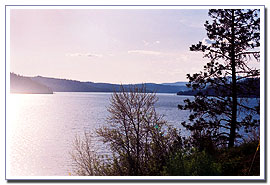 The evening sun shines on
the southern portion of Lake Coeur d'Alene


Education has also been another focus for the tribe. There is a new $5 million building housing the tribal school, which allows both tribal members and non-tribal members to attend. "Our school is 61 percent Indian, but students there are color blind. It's not like when I was young and couldn't date a white girl," Stensgar says. Although the tribe and surrounding towns have had success with joint projects, Stensgar said there is a lack of cooperation between Idahoís state legislators and the tribe, especially with sovereignty issues, including the tribal gaming and gas tax issues. "I think tribal-state relations have deteriorated. We're working very very hard," he said. "Instead of fighting we could be working together to be a showcase for tribal-state relations." The casino, which has helped the tribe beat unemployment and poverty and has also caused controversy in the state, is probably one of the first things that comes to mind for many people when thinking of the tribe. If all goes according to plan, the Casino will one day be much more. Laura Stensgar, casino marketing director and the chairmanís daughter, said the goal is to make what is now the Coeur d' Alene Bingo Casino and Hotel a destination resort. To do that they plan to add a golf course and amusement park on to the hotel and casino. "We can't totally rely on gaming," she said. "I truly don't think gaming will be here forever, and diversification is important." Eventually people may think of Worley as a golf resort and an amusement park with some gaming machines inside the building, if all goes according to plan. And although Laura is skeptical about the future of gaming, the tribe is also spearheading an initiative that would go beyond the current gaming compact the Northern Idaho tribes have with the state of Idaho and make gaming a safer bet for tribes. "We want to get gaming on the ballot," she said. The initiative comes after the tribe tried to work through the governorís office, but met opposition from the State house and senate. "We followed the process, and now we are taking it to the people," she said. Gaming has had a large impact not only on many aspects of life for Coeur d' Alene Tribal members and those who live near the casino or work there, but also for many others in the Idaho community. The tribe donates five percent of gaming revenues to education each year, and those donations are not limited to the reservation. Some money goes to institutions of higher education in Idaho and even to schools that don't seem to have much connection to the tribe.
| | |
| --- | --- |
| The school district in Troy, for example, received $26,000 from the tribe to build a new high school. Laura said the money from the casino helps sustain the tribe as well as groups that are in need in Idaho. "It all goes in a circle, it comes back to us," she said. "We are not just here to make money." | |